September 7-9, 2018
St. Stephen's Anglican Church
7921 St Stephens Road – off Mt. Newton Cross Road
Saanichton, BC, Canada
Gates will open at 2pm on Friday. Camp on the field and setup your telescope for two nights of fun!
Cost: Free of charge! Visiting observers who stay overnight: suggested donation of $20/Adult one day or two.
Everyone who is present is entitled to tickets for door prizes, presentations, and access to the observing field.
Prizes for kids and adults, including three telescopes! See below…
Don't want to camp? No problem if you live in the Greater Victoria area…you can drive home after an evening of fun on the observing field.
Staying after dark? Please bring a red light with you – no white lights!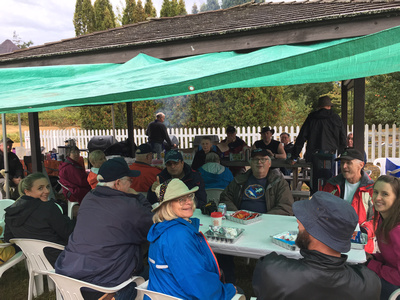 Schedule of Events
Friday 7th
2:00 pm – Gates open
6:15 pm – Welcome and door prizes, including a telescope!
6:30 pm – Astro Cafe – Theme: Star Parties

Bill Weir will share experiences from recent Mt Kobau and Merrit Star Parties.
Miles and Dorothy Paul will describe highlights from the latest Oregon Star Party
Nelson Walker will discuss his planning process for observing sessions
Plus Show and Tell Session

8:00 pm until dawn: observing! No white lights during this time, please
Saturday 8th
Solar viewing – all day on the field
Afternoon presentation – TBA
5:00 pm – StarBBQ – burgers!
6:15 pm – Welcome and door prizes, including two telescopes!
6:30 pm – Speaker – David Lee will share his experiences, insights and beautiful images acquired on his recent trip to Kitt Peak Observatory in Arizona and during his time amongst the iconic Saguaro cacti.
8:00 pm until dawn: observing! No white lights during this time, please
Sunday 9th
Cleanup – everyone please pitch-in & help
Please, no parking in the church parking lot this morning in consideration of Church members attending their service!
12:15 pm – solar viewing for St. Stephen's congregation
Early departures please!
---
Facilities
Camping on the observing field with your tent, trailer or motorhome – bare camping, no utilities on the field
Setup your telescope and other astronomy gear on the observing field
Some power on the field for astronomy equipment, but no RV plug-ins please!
Washrooms and porta potties
Water, self-serve coffee & tea
Visitor and drop-in parking
Please do NOT park on the field with your vehicle if you plan to leave after dark! In this case, move your vehicle off the field after setting up, and park in the parking lot with your headlights facing away from the observing field. The same parking request applies to visitors dropping in for the evening – leave your vehicle in the parking lot and walk into the observing field.
---
Star Party t-shirts
A very limited supply of RASCals Star Party t-shirts will be available for sale. Pre-order yours by contacting Joe Carr. Black t-shirts available in Men's M or L sizes ($16 ea), white t-shirts available in Men's S & XL ($12 ea), and white Kid's t-shirts available in S & M ($12 ea).
---
Prizes
Bushnell 4.5″ reflector telescope – Friday night prize – donated by a RASC member
Sky-Watcher Virtuoso P114 4.5″ Matsukov telescope & computerized mount – Adult's Grand Prize – Saturday night – donated by Quarky Science
Celestron Astromaster 130AZ 5" reflector telescope – Kid's Grand Prize – Saturday night – donated by All-Star Telescope
---
Location
What to observe